Super Profitable Established Unique Fast Casual Sandwich Shop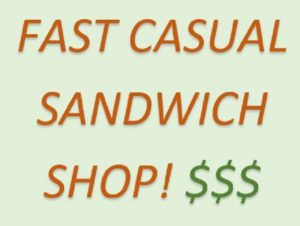 This is your opportunity to own and operate a legendary fast casual sandwich shop.  Some of the highlights of this excellent opportunity include:
Highest Profit Margins that you will find in the Restaurant Industry!
Fantastic, desirable location!
Long, stable, history!
Unique and Simple Menu!
Solid, competent, well-trained Staff!
Not a franchise!
Opportunity to increase Revenue!
Clean Books, Records, and Accounting!
Owner has the process down to a science and eager to share with the right Buyer.
Favorable Lease!
Important:  Prospective Buyer must have experience in the restaurant/food service industry.
Because of the excellent books, records, and accounting, this business has been pre-approved by an SBA Lender to a qualified Buyer with only 10% Down Payment.  In order to qualify for the loan, the buyer should have food service/restaurant management experience and also not be an investor or absentee owner.  With only 10% of the Purchase Price as a down payment, seller can project that a buyer should be able to service the loan and still have an adjusted net profit of over $200K per year!  Opportunities such as this are rare no doubt.
There is much more to say about this opportunity, however, confidentiality is of the utmost importance to the Seller.
Reason for the Sale:  Relocation
Call today and don't miss out on this outstanding opportunity!