Premier Profitable & Growing Kitchen/Bath Design and Remodeling Business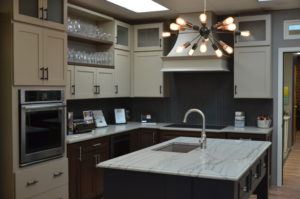 About the Business: This is a unique opportunity to own a premier full-service design-build kitchen and bath business. This business was established in 2016 and annual sales have already surpassed $3M in 2018. The company has an excellent reputation and there is lots of room for growth. This design business is especially known for their kitchens and bathrooms. Their showroom, which has been expanded twice, is an excellent showcase and key to providing outstanding service they are known for. In conjunction with the staff and showroom, the process begins with a wide selection of popular design choices, then transitions into expert advice and planning. The business sources and orders the products and follows through to the installation of the final project. Clients include retail customers as well as new construction and remodel contractors. They also provide services for multi-unit remodels and flippers and even the do-it-yourself clients. The Company has an exceptional Design/Sales staff. Aware of new design trends, they provide expert guidance through the process. In addition to their own carpenters and remodelers, well-established relationships with electrical and plumbing contractors help make installations run smoothly. There is opportunity to grow revenue by increasing marketing efforts and expanding the reach of the service area.
The ideal candidate to acquire the business should have an understanding of the construction/remodeling process. You would not have to be a general contractor, but having an understanding of how things are built, and knowing the general steps of remodeling kitchens and bathrooms would be helpful. Other helpful skills would include general business management, marketing, and operational skills. This would also be an excellent opportunity for a couple-team.
The owner's main duties in operation of the business include scheduling, coordinating with the Project Manager, overseeing material orders, reviewing estimates with designers, and managing timeframes with jobs and staff, paying bills, and staying on top of advertising/marketing. The owner doesn't typically interact with the customers, except in the case of very high-profile customers. The owner's time requirement on the business is usually a Monday through Friday work week, about 7am to 5pm. He is able to work about two days per week from home.
Property Features and Assets: There is 1,440 square feet show room serving as the showcase for the business. The location is in a high-flow traffic shopping center with huge visibility and lots of parking. This location has over 6 different food establishments with excellent visibility and traffic off a very busy main street. This location is turn-key, and sale of the business includes Furniture/Fixtures/Equipment approximate value of $240,000, including 2 box trucks and 2 pickup trucks, a warehouse location – everything you need to operate this business successfully! The owner will help negotiate a long-term lease with a buyer and the property management team.
Market Competition and Expansion: Besides the high traffic flow, the business has high flow leads market in place for new customers and has had to turn them off at times as to keep up with the inbound of new clients and new leads as well as many repeat customers and referrals.
Enough cannot be said about the location of this store. After submitting the Confidentiality Agreement you will receive more information that will elaborate on this point.
Some possible ways to expand the business might include bringing hardwood flooring, windows, and doors in house. The owner also feels that having a small painting division would also be strategic opportunity. In addition, there are lots of opportunities to provide referrals to other trades that provide services that might be too small or out of the area of the service that the Business does not currently provide.
Increased signage would be something the owner feels would really capitalize on the local traffic. The owner has only relied upon traffic in the immediate location of the retail center for which the business is located in.
Only starting the business in 2016, the business did $3MM in sales in 2018 and continues to have an upward trajectory that will be appealing to a new owner.
Training & Transition: They look forward to transitioning the Company to new ownership that will move it to the next level while maintaining its history and will help with training needed. Owner will train for 30 days to help with transition.
Financing: TBD
Reason for Selling: Relocate to be closer to family.