National Sign Manufacturing and Metal Fabrication Business
This is a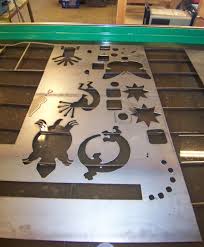 n excellent opportunity to own a unique, profitable sign manufacturing and metal fabrication business located in Conifer, Colorado. This business specializes in manufacturing all types of customized wood, plastic and metal signage and decorative items.
Architectural mill work services that are provided include 2D and 3D carving, routing and engraving all types of materials, including but not limited to signage, letters, cabinets, doors, brackets, gates, address markers, machine parts, furniture accents and other decorative craft items.
Fabrication of decorative plastic and metal products includes plasma cutting, and finished products such as metal silhouettes/signs, railing inserts, brackets and parts, and much more, that are produced from drawings, photos, artwork and graphics provided by customers. Personalized finishing in a variety of colors and finishes is offered, as is oil rubbed bronze and copper finishes. In addition welding and repair services of signage, metal, plastic work are offered.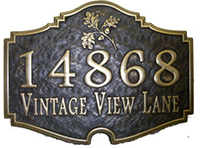 Established in 2000, this business serves thousands of customers across the United States and even internationally. The customer base is comprised of residential homeowners, local and nationally recognized businesses, high-end real estate professionals, builders and home remodelers, and even other sign businesses. They have done work for many celebrities and prominent entities.
Approximately two-thirds of the total revenue comes through in the form of Internet sales. Credited with this success is a fully automated website with online order fulfillment that was specifically designed to funnel the wide signage product offering and customization options into a customer-friendly user interface that results in an efficient sales-driven vehicle.
The remaining one-third of revenue comes in from phone sales, existing customers, and referrals. ALL business is the result of incoming sales. The owners do not put any effort forth toward outgoing sales!
Included in the sale of this business are all of the Furniture, Fixtures and Equipment in the fully equipped shop, conservatively estimated at $85,000. Notable pieces of equipment are CNC Router and CNC Plasma cutting machines, Material Finishing Machine, Scanner and Welding Equipment. ALL equipment, tools, computers, software that are necessary to operate the business are included in the sale.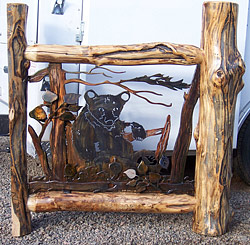 Gross Sales and Adjusted Net Profit: Gross annual sales were $311,000 in 2014 and the Adjusted Net Profit to the Sellers was approximately $100,000. Please note that the Adjusted Net Profit includes both owners (husband/wife team) of the business.
Competitive Advantages: Customization, craftsmanship, and the ability to produce, fabricate and manufacture a variety of signage and decorative products sets this business apart. The highly functional and proven website provides an offering of specialty products to a nationwide pool of customers that has only been partially tapped. This is much more than your average sign company, in fact, many sign businesses outsource to this business.
Future Growth/Potential: The largest area for growth is to increase Internet sales. The Seller will happily share specifically how you can do this and believes that a new owner could double the web sales. In addition, there are many opportunities to upsell customers that are currently being overlooked and neglected. The equipment and machinery is in place to expand manufacturing and metal and plastic work, only to be limited by your imagination.
Current employees include the two full-time owner-operators (husband and wife), one full-time machinist/production person, and 1 part-time graphics specialist, both of whom are willing to stay on with the new owner.
Skills required to operate this business might include a mechanical aptitude (tools and machine operation), craftsman expertise, graphic arts, printing, sign business experience, or customer service/sales. A new owner would not have to possess all of these skills but would need to hire an employee with supplemental skills. This would also be an excellent opportunity for a 2 person team (business partners, husband/wife, significant other) that together, possess these skillsets. There are many creative options in which to accomplish a successful continuation of the business. It should be noted the revenue of the business is not dependent upon the location, as there is very minimal walk-in business. The Conifer area is only 15 short minutes the Denver Metro Area.
The owners are selling the business for semi-retirement. In order to insure a smooth transition to the Buyer, the Sellers are including 30 days of training in the sale of the business. This business is priced below market value to account for the replacement of the combined skillsets of the current husband/wife owner operator team. This business has excellent books and records and has been pre-approved for SBA Financing with only $30,000 down payment, to a qualified buyer.