Highly Lucrative Custom Industrial Coatings Business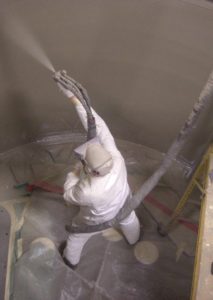 Founded in 1995 this business is a leader in the Polyurea Coatings and Spray Foam Insulation industries in the US and Canada.
Important: Because Seller is concerned with highest level of confidentiality, Seller requires our firm to send all NDAs for review and approval and also that all prospective buyers send some type of statement of financial qualification prior to sending further information about the opportunity. Once submitting your NDA and statement of financial qualification, please allow a few days for review and approval by seller. Thank you for your understanding. Also, please call if you have questions on the process or if you'd like to go over financial qualifications verbally.
This business is a solution provider to both small and large industrial clients who have critical problems to solve. The polyurethane and polyurea coatings products provided by this business offer significant life extension to industrial use equipment and infrastructure. The products and services provided by this business have proven themselves over 25 years and are solidly positioned in the industrial coating market space. The products are completely solvent free and are environment friendly. They can be applied to metal, concrete, and wood, giving it a versatility that other lining processes are not able to match. Surface preparation and material application services are provided at the location of the business in addition to mobile services as well.
The business is divided into the following business areas/functions:
• Truck Bed Lining Sales & Installation: Retail and Wholesale to Car Dealerships
• Shop Application of Industrial Coatings for impact, corrosion and abrasive surface protection (mostly municipalities and industrial service companies) for items such as: Street Sweepers, Mining Equipment, Vac Truck Tanks, Tool Boxes and Industrial Tools, Salt Spreaders, Flat Bed Truck, Trailers -Fabricated Steel and Wood Assemblies
• Wholesale Equipment and Material Sales to entities performing truck bed liner coatings
• Field Application of Industrial Coatings for impact, corrosion and abrasive surface protection over concrete, metal and composite substrates to storm water pipes, primary containment, and field application of spray foam insulation products
• Wholesale Equipment and Material Sales
• Repair of Equipment (Warranty and Non-Warranty)
Specialized Services offered by the Business:
• Vehicle Undercoating
• Bomb Proofing
• Flooring Applications
• Mine Equipment and Ore Processing Equipment Protection
• Mine Shaft Lining
• Dam Face Lining
• Storm Pipe Lining
• Manhole Rehabilitation
• Service Body/Vac Truck/Deicing Equipment Coatings
• Hydro Power Plant Linings
*Please note the Seller believes the most optimal buyer will be an owner/operator person or small team, unless a Private Equity Group has a person that is able to manage the shop upon the sale.
Reason for Selling:  Capitalization of the value of the business.