Highly Lucrative Custom Industrial Coatings Business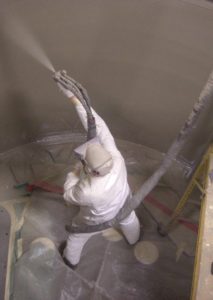 About the Business: Founded in 1995 this business relocated to Colorado in 2001 and remains a leader in the Polyurea Coatings and Spray Foam Insulation industries in the US, Canada, the Middle East and in South America.
This business is much more than a "coatings company" — It is a solution provider to very large industrial clients who have critical problems to solve. There is currently no other company doing the same thing.
The Business has developed and refined specialized coating and foam applications and processes to serve a variety of industries and specialized clients. With solutions in both the industrial and consumer spaces, the Business offers a wide range of services including:
• Bed Liner Applications
• Municipal Solutions
• Industrial Applications
• Mining Solutions
In addition to all of the direct applications of the Business provides, the Business also operates a training facility that provides hands-on training for business owners that are setting up their own operations. The business has assisted several large manufacturing firms including pole manufacturers, railroad equipment suppliers and window manufacturers to implement high-performance coating and foam systems into their own operations. Also, on occasion, the business will sell used equipment such as demo machines, traded-in units, or used units purchased from a variety of sources. All equipment is serviced as required, and often includes new parts.
The Business is currently bidding on lucrative contracts in the mining, oil and gas industries. The most notable value proposition for the acquisition of this company is in these projects being bid and the opportunity to continue to grow and expand in the mining, oil and gas industries.
OSHA's Safety & Health Achievement Recognition Program (SHARP) recognized safety program for the Business in 2015, and to date the Business has had no OSHA citations or reportable injuries. All team members are current with certification on Mine Safety and Health Administration (MSHA) surface mine, 40-hour underground mine, and MSHA Lockout, Tagout, Tryout (LOTOTO) training, and receive additional annual MSHA training.
The business is divided into the following business areas/functions:
● Equipment Sales
● Equipment Service
● Material Sales
● Training and Consulting Services
● New Process/Business Development
● Application Services
○ Mining
○ Municipal
○ Retail Consumers
Inventory and FFE: Included in the sale of the business are material and supplies inventory and equipment with a fair market value of approximately $800,000 as well as 2 pipe spraying robots with a value of $300,000. Accounts receivable may be negotiable depending on the deal structure and circumstances. A full list of the equipment is listed Schedule A.
Current Business
The Business is now bidding contracts in the multi-million dollar range in the civil municipal, mining, oil and gas industries with extremely high profit margins.
Growth and Expansion for the Business
The most compelling expansion areas for the Business includes building the truck bed market share, storm pipe lining and bridge deck coating projects, and securing contracts for mine shaft projects.
For day-to-day shop work, the company can run itself in the owner's absence. The Seller has has been especially talented at developing ideas and specific business infrastructure. For example, below is an outline of some of the business categories that a prospective buyer with the ability to provide scaling can pursue:
● Selling materials
● Selling equipment
● Bedliner business and creating a network of franchises for this service
● Spray foam insulation
● Municipality Infrastructure
● Mining/Oil and Gas Solutions
Competition: There are competitors that provide spray-on bedliners and competitors that provide a polyurea coating, however this Business has set themselves apart and established itself as a unique solution provider by not simply being a "coating" company nor a "time and materials" business. The Seller has developed specific intellectual property to enable the business to solve sophisticated industry problems which allows the Business to name their own price.
Some of the IP includes:
● Knowledge of the product mixture, configuration of the equipment and how the application is applied
● The technology and method preparation
● The specific knowledge that comes from the experience of being the only solution available for multimillion-dollar projects.
There is no other business doing what this business is doing and there is significant potential for a buyer that can capitalize on what has been built and can successfully scale it. It is extremely difficult to enter into competition with this Business.
Premises and Lease: The location is 4,000 sq ft under roof, leased at $3400/month and includes the warehouse, offices, training room, blast area, and spray shop with equipment room. The current lease is paid through December 31, 2019 and expires in August 2023.
Training and Transition: The Seller will entertain creative deal structures with back end profit sharing, incentives or earnout for specific business performance. The Seller is open to post-consulting to meet the needs and goals of the buyer. He has structured the business so his duties of bidding and providing direction on projects are very delineated and he can provide services to fulfill such obligations in alignment with his post-sale goal. The Seller's Exit Strategy includes Merger/Acquisition with a group that will allow for "pulling some chips off the table" and under an agreement, Seller will concentrate on large client opportunities and remain available to prevent any loss of institutional knowledge.
Reason for Selling: Semi-retirement and post-sale consulting interest