Digital Media Business Disrupting the Tourism Industry!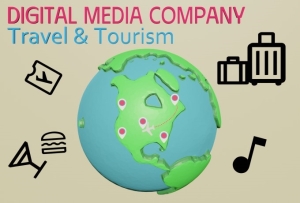 About the Business: This is your opportunity to acquire a unique, market-disruptive digital media company encompassing a content-driven website in the travel and tourism industry. This company is known for providing rich, unique "local" content and insider information about attractions and  "Things to do" in a high-traffic tourism market.
Please note that this opportunity is a growth-oriented business opportunity with great scalability potential. This is not your typical sale based on established profit times a multiple, but rather this is an opportunity for a buyer that can take a startup with demonstrated revenue-generating proof-of-concept and expand it. The buyer should enjoy scaling and growing a business, digital media, and travel/tourism. Revenue comes into the company in the form of paid advertisers. Although there is $100K annual revenue per year with the established initial website, the larger vision is to scale to 20+ other websites (domains owned by seller and included in sale). As such, the Seller is open to creative financing terms for the right buyer who has experience and shares the vision. The seller is excited to foster growth and share the strategic knowledge to help the new owner succeed. The seller recently sold another very successful digital media company and is interested in retiring.
This business was created because the seller knows that visitors and travelers are looking for more insight, higher quality information, and a genuine experience. In other words, they want to experience their visit like a local. The website is also a very valuable resource for the locals, many of which are loyal consistent readers of the website and the magazine. Making this their mission, the business is disrupting the market by providing weekly content that dives much deeper than a Google search of "Top Ten Things to do" and contains original information that is typically not found on Chamber / Visitor information (and other .gov) sites, which are notorious for being populated with generic content and tourist traps.
Advertising Sales – Driving Opportunity through Unique Appeal:
The website business and content is very attractive to advertisers, as they understand the opportunity to reach both locals and the visitors.
Revenue growth comes from advertising sales targets of local, regional and businesses of all sizes for advertising dollars.
What is unique and exciting about the advertising sales opportunities is that the website and content appeals to locals and visitors, and the combination is a unique audience for all types of advertisers.
Delivering a high quality, broad advertising base with 95% renewal rates.
The ideal candidate to acquire this business opportunity would be an existing local or national media company or an individual that is interested in growing this digital footprint that has been established. A buyer should share the vision that has been created, and be interested in scaling websites, advertising sales and have an interest in digital media. This disruptive media business is based on technology and will take advantage of aging local media companies such as local radio, newspapers and city magazines that were started in the 1970s. In many markets there is no tourism local market website for locals and visitors.
The company is virtual and can be relocated anywhere, and currently operates with part-time effort by the seller. The company is staffed with only 1099 independent contractors consisting  of writers, editors, developers, art directors and production personnel.
Training and Transition: Complete training is included in the sale, and all training can occur in a remote setting if desired.
Growth and Expansion for the Business: The roll out of additional markets is quite simple. Using the URLs and digital templates included in the sale, the new owner can create new websites targeted to popular tourist markets pre-selected by the Seller. By simply hosting the new website, changing the URL, logo, name, images and creating original content, you have the ability to scale the business exponentially. The seller can demonstrate and assist the new owner in duplicating this  process using the company's proven SEO and marketing strategies to build brand image in the marketplace and expansion in each of the tourism markets.
Competition: The acquisition of this business is a strategic digital play that can put you miles ahead of your competitors. The competition includes all local market media for readership and advertising dollars, which for the most part has a poor digital footprint. Most competitors are traditional media companies that have little understanding of emerging technologies. This company's website template, technology, and content attracts well-paying advertisers interested in reaching as many prospects as possible.
Financing: The Seller is open to a variety of sale/transition structures and can be flexible for the right buyer. Terms are dependent upon prospective buyer's creditworthiness, experience, skills, and personal collateral.
Reason for Selling: Retirement